Bringing The Club Atmosphere To You: Live at an Event
Listen to dance music and remixes that are only heard in clubs, mixed live on two CDJs, the club standard media player. Club-style lighting effects are included standard in all packages. These lights are sweet to look at and even more fun to dance under. A high-quality, wireless, hand-held microphone is also available at all events for making announcements.
The club-style package includes a 15,000 watt, JBL sound system that blasts chest pounding bass to audiences of up to 1,000 guests. Club-quality, lighting effects from Robe and Chauvet light the dance floor. These awe-inspiring, LED lights help keep dancers cool, while haze adds atmosphere for the beams of light to visibly shine through the air. Lights hang thirteen feet into the air, across fourteen feet of industry-standard, Global Truss.
Our basic package is built for venues with limited space and group sizes of up to 150 guests. An RCF line-source sound system provides excellent sound in a compact system that blends in with your venue. In place of trussing, two tripod stands help light the dance floor using Chauvet moving head fixtures and Blizzard wash lights.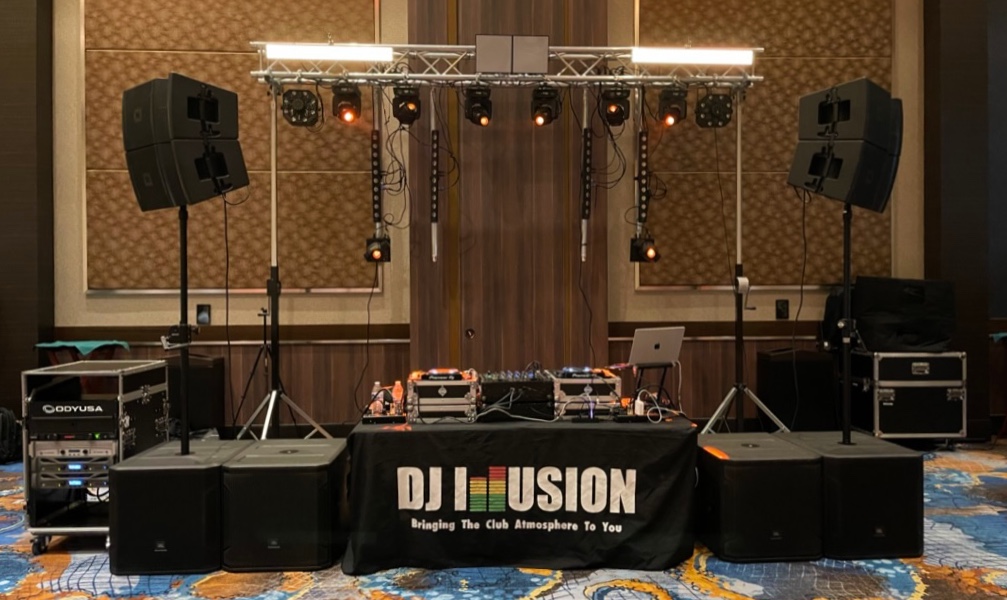 Club-Style Package example photo.
Lighting and Atmosphere