Bringing The Club Atmosphere To You: Live at an Event
Curious about the equipment DJ Illusion uses at his mobile events? A 15,000 watt, JBL sound system blasts the beats, while club quality, lighting effects from Chauvet and Blizzard light the dance floor. Awe-inspiring, LED lights are primarily used, and help keep dancers cool, while haze adds atmosphere for the beams of light and laser effects to shine through.
Lights hang across 14 feet of industry-standard, Global Truss trussing and Duratruss stands are used to lift them up to 13 feet into the air. My basic package, built for venues with limited space, includes two tripods with t-bar stands for the lights, in place of the trussing.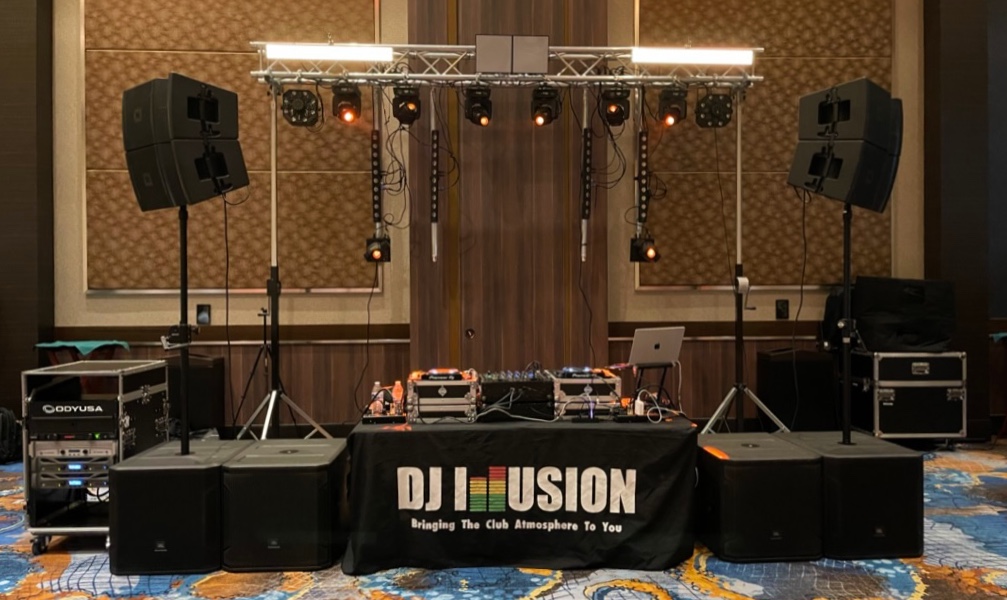 Packages Include:
12" JBL speakers blast the tunes to audiences of up to 1,000 people
18" JBL sub woofers keep your party's dance floor moving
Club-style lighting effects that are sweet to look at and even more fun to dance under
Hours of dance music and remixes that are only heard in clubs, mixed live on two CDJs, the club standard media player
Wireless, hand-held microphones for making announcements
Included Equipment
For those that are interested, below is a nearly complete list of the club-style setup. Serato DJ is run on a Macbook Pro for our music needs, with V-Moda M-100 headphones used for mixing. SoundSwitch controls the lights via ControlOne using DMX, while two Crown XTi 6002 amps power the subs and speakers.