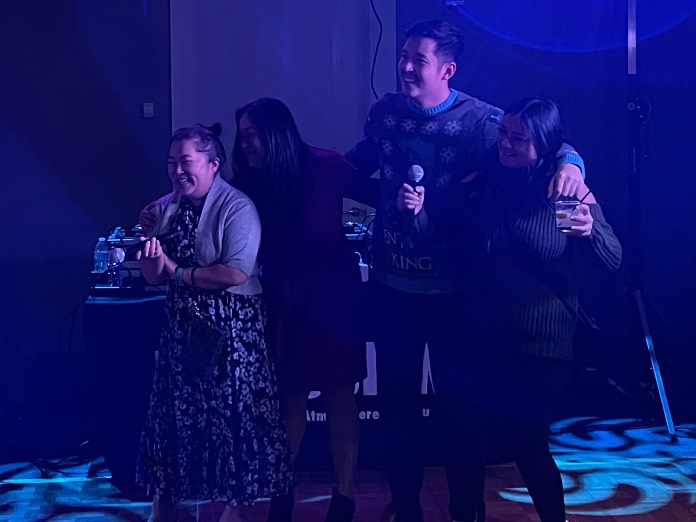 Karaoke Packages - Starting at $499
Throw a karaoke party like you're at a concert, with professional sound and lighting. Choose from a catalogue of over 50,000 songs and make song requests from your phone. DJ Illusion offers two AV packages to fit your budget. Both packages include everything you need from a dance lighting and sound perspective or can be customized and booked à la carte to best fit your needs. Prices start at just $499 for two hours of music and run $200 for each additional hour.
Packages Include:
50,000+ karaoke songs
Online music catalogue and song request queue
Premium sound equipment, powered by JBL
Concert-style lighting effects that are sweet to look at and even more fun to sing under
Two wireless, hand-held microphones from Shure for singing and making announcements
See what a DJ Illusion production looks like in this video
Sound Only Package

$499 for two hours of music

Standard Package

$649 for two hours of music

Concert-Style Package

$1,199 for two hours of music
Ideal Group Size
150 or fewer
150 or fewer
Up to 500
Cost per Additional Hour
$200
$200
$200
Music
50,000+ Karaoke Songs
✓
✓
✓
Online Song Requests Queue
✓
✓
✓
Sound
12" JBL Line-Array Speakers (VRX932LA)
2
2
4
18" JBL Subwoofers (STX818S)
1
1
2
Two Shure Wireless Microphones
✓
✓
✓
AV/Lighting
TV for Lyrics Display
✓
✓
✓
Moving Head Fixtures
✘
2
8
Pixel Wash Lights
✘
✓
✘
Panning Wash Fixtures
✘
✘
✓
Moonflower Effect Lights
✘
✓
✘
Hazer
✘
✘
✓
Optional Add-Ons
Upgraded Sound System from Standard to Concert-Style
$99
$99
Included
Wireless Uplights/UV Uplights
$40 each
$40 each
$40 each
Hazer
$35
$35
Included
Getty Images Holiday Party 2022
Concert-style package, with karaoke, and green uplighting.
Customer Review Great event. Stephan was very flexible in providing additional lighting, 1/2 Karaoke/ 1/2 DJ options, and music options.
Craig N., Getty Images Holiday Party 2022 Read More Reviews >
Customer Review Stephan ran karaoke at our engagement party at The Stables in Georgetown. When Stephan arrived, he took charge and got straight to work. He met with the in-house coordinator and got the A/V system set-up quickly. His introductions for each karaoke singer were awesome, he brought great energy to the party. He totally helped make our party a hit! Thanks Stephan!
Miss Laynuh, Seattle, WA Read More Reviews >
Customer Review We hired DJ Illusion for our department holiday party (~70 people). The music selection was current and fit with the atmosphere of the venue. He provided a karaoke option with a huge catalog to choose from. Having a DJ and karaoke set the tone for evening and everyone had an amazing time.
Thanks DJ Illusion!
Jolene K., Getty Images Holiday Party 2015
Read More Reviews >